Having had so much fun decorating our living room shelves for
Halloween
,
Thanksgiving
, and
Christmas
, I let them sit empty for a few days after the holiday decor came down to see if a simple and inexpensive Valentine's Day idea would come to me. It did.
*UPDATE: I added some dollar store berries, so I guess it cost $2 now. Totally worth it, though.
Mike and I displayed some wedding portraits on one of the fireplace mantels at our wedding reception. They were pictures of our parents and grandparents on, as I've explained to Sophie and Michael recently, the days they promised to love each other forever. Since our wedding, those framed photos have just been sitting in a stack on a shelf in our storage room. Pretty fitting for Valentine's Day, no?
In addition to setting up those framed portraits on our shelves, I hung up a wedding photo of our own that was in our bedroom until I swapped it out for some vacation pictures a while back. It's nice to see it up again.
While I'm tempted to get some dollar or thrift store frames for those pictures and spray paint them all white or something funkier, I'm trying to stay true to that "simple and inexpensive" goal I had at the start of this. Maybe I'll take it up a notch next year.
With the frames I mixed in some glass candle holders and silver vases that I've had forever. (I still might pick up a couple of flowers for those vases, or maybe I'll grab some small wintery branches from outside...) Feeling the arrangement needed some color, I wrapped the vases with red ribbon I bought months ago for a headband I have yet to make. The space in front of our own picture looked a little bare, so I came up with this little craft to spread the color around a bit more.
I convinced Mike to cut a piece of scrap trim to about 15 inches long and to cut a slit for wooden shapes to stand up in. I had the shapes on hand for a couple of years now, having opted against including those hearts and stars in
the kids' mobiles
. Mike even filled old holes with putty and sanded the trim so I could paint it, the handy guy he is.
Finding time to paint coats of red on those hearts had been tricky enough, so instead of painting the base of the decoration, I wrapped it very meticulously...
...with vintage fabric I bought for
another
project I've yet to tackle.
Those wooden hearts had come conveniently in a package of four. Do you recognize the letter stickers? They're leftovers from the
menu board
.
I think it came out pretty cute for a bunch of crafty scraps! I didn't spend a penny.
A pleasant result of the arrangement is Sophie reminding me in random moments that "Gigi and Papa got murrried!"
I've been spreading Valentine's cheer in the kitchen as well, but I'm waiting on a few ebay purchases similar to
this one
to round that room out. Stay tuned!
Linked up at...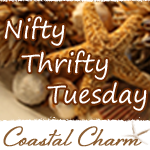 Head on over to
Creations by Kara
for more fun projects!