It was in Paris five years ago that our little girl's name came to us. I joked that if we accidentally conceived a child on that honeymoon, we would have to name her something French, like Sophie. The connection Mike and I felt to it in that moment gave the name an edge over all others we considered during my pregnancy.
Michael's name was decided long before
our honeymoon. I knew for a decade that Mike shared his name with his dad and intended to pass it on, and I
thought
I supported that. But when it came down to it, it took the entire pregnancy for me to get fully on board with our little guy not having a name all his own. Now that I've met our kids, I see their names are just right.
I've found myself thinking back to our time in Paris a lot over the last few weeks. Mike's parents are there right now but for reasons far less romantic than a honeymoon. Mike Sr. was there on business in July and developed Guillain-Barre Syndrome. From what we understand, his hands and feet went numb, he fell, and was taken to the hospital. Gail flew out right away.
Soon this neurological condition led to a breathing tube and medication that has had Mike's dad in and out of consciousness and struggling to communicate. While he's expected to make a full recovery after a period of rehabilitation, the family has been in a frightening time warp. We were told he could be on a medical flight home "in a few days" or "sometime next week" again and again and again as setbacks kept arising. Suddenly it's been a month.
Understandably, after weeks away from home and having only prepared for a short stay in a foreign country, Mike's mom needed someone there to share the load of this emotionally draining experience. My husband returned to our honeymoon destination. Although I'm never eager for the taste of single-parenthood that Mike's trips out of town give me, I've hoped that this one would give his mom some comfort, his dad a boost of healing morale, and himself some peace of mind. Envisioning his dad so far away, uncomfortable in a hospital bed, and unable to actually speak to him for weeks has been unsettling for my husband.
I had an experience the other day that made this journey feel especially right.
At dinner on one of our Parisian honeymoon nights, Mike and I met a family from California--a mother, father, and school-aged daughter who had been traveling the country for several weeks. The mother mentioned that she was an author of children's books and gave me one of her bookmarks, pointing out that the titles were all variations of "peek-a-boo
."
While we've never actively looked for them, stumbling upon one of these books has been a casual hope of mine and Mike's all these years. When we received some with similar titles at our baby shower last year, I dug out our honeymoon scrapbook and checked the bookmark. We had forgotten the author's name and found that our babies' books were not written by her.
Mike left for Paris Wednesday night, and I took Michael and Sophie to our public library in the morning to get audiobooks for him to take to his dad, my sad attempt at help. The kids and I stopped into the children's area where they always enjoy the fish tank, playing with activity cubes, and toddling in opposite directions with destruction in their eyes. I was momentarily distracted from protecting our community's collection of children's literature when I noticed this: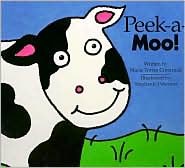 Peek-a-Moo!
by Marie Torres Cimarusti, smiling up at me from a kiddie table. I recognized the book immediately. It found me on the day Mike was scheduled to fly back to Paris, and that felt like a cosmic wink, a little John Cusack-style serendipity.
I checked the book out, of course, and Michael and Sophie love it. They both sign "more" when we get to the end, telling me to read it to them again and again and again. That's my favorite kind of time warp. I've been reading the book to the kids every day of Mike's trip as reassurance that things are somehow working out, falling into place, and will be just fine.
During Mike's visit his dad made greater progress than any of us could have hoped for. At this moment my husband is on his scheduled flight home, and his mom is with him. His dad is also in the air right now, on an International SOS flight home. The two planes should land here within hours of each other. How's that for falling into place?